Laings Goldsmith, Emma Millar, embarked on a journey to Antwerp to undertake a three-month Optical Diamond Setting course at Alexandre School to become a Stone Setter, a rare skill. Follow Emma's adventure in 'The Diamond Capital of The World' and discover the incredible artistry and skill she brings back to us here at Laings.
With a passion for becoming a goldsmith since her secondary school education, Emma's drive first brought her to Robert Gordon University in Aberdeen, studying design focused on her passion, jewellery design. Following her graduation from Robert Gordon University, Emma was determined to gain the experience she needed to become an accomplished goldsmith, working anywhere that would allow her to practice these skills. Along the way, Emma worked in different areas of the industry, gaining an understanding of fine jewellery and developing other skills in sales and administration.
Emma started her journey in Laings in 2016, working in the service department and becoming immersed in the day-to-day repairs of fine jewellery and watches. Six months into her role, Emma transferred to the Edinburgh workshop, where she could practice her skill with the guidance of Laings' goldsmiths.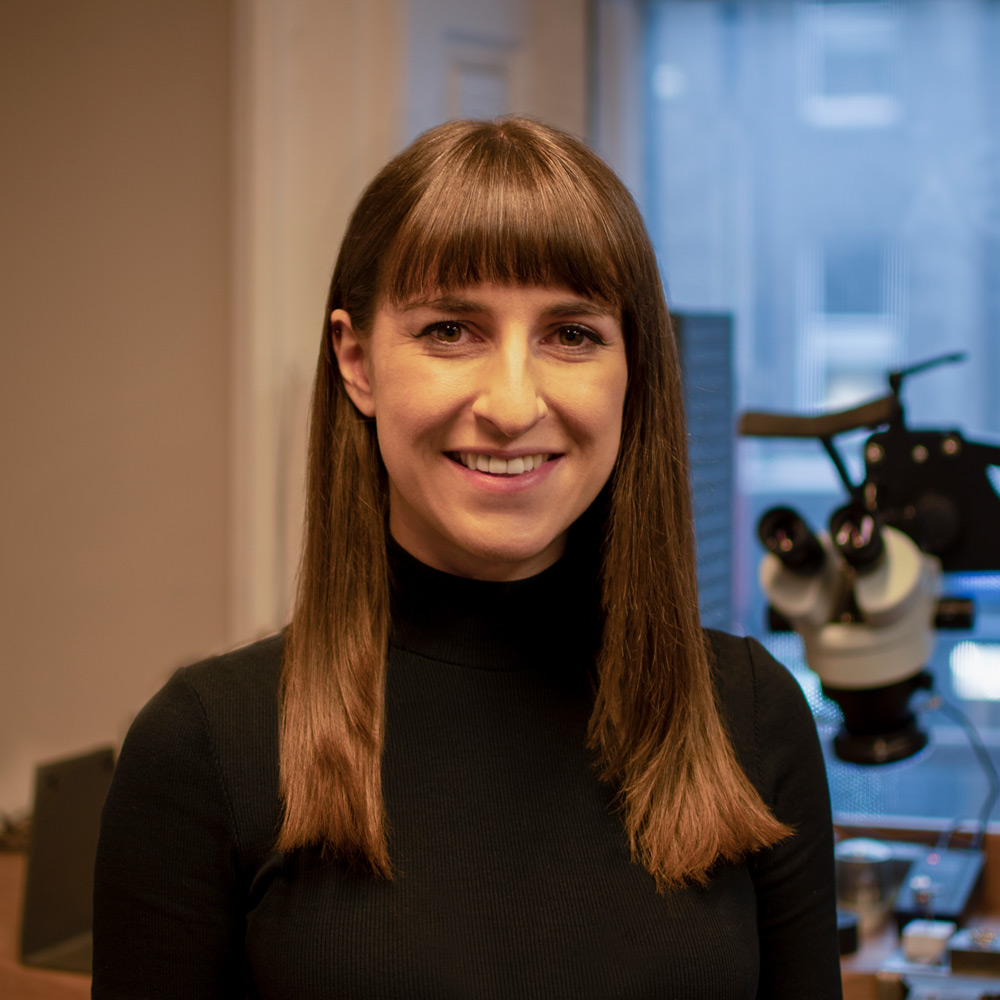 "What I love about being a goldsmith is that no matter how much you know, there's always something to learn - there's still an intrigue. I absolutely love my job, and I tell anyone who will listen how special it is that Laings has a dedicated department that possesses such rare skills."
Emma flourished in her role, and this year was a fitting time to take her skills to the next level in one of the most prestigious training courses a goldsmith can undertake. January saw Emma embark on a journey to Antwerp to undertake a three-month Diamond Optical Setting course at Alexandre School to become a Stone Setter, a rare skill.
Antwerp is regarded as 'The Diamond Capital of The World', with the first diamond said to have been cut in the renowned city in 1476. Its legacy lives on to this day, with the majority of the global industry's diamonds passing through the hands of Antwerp. The opportunity to train here with the knowledge and legacy of Antwerp's time-honoured expertise is second to none.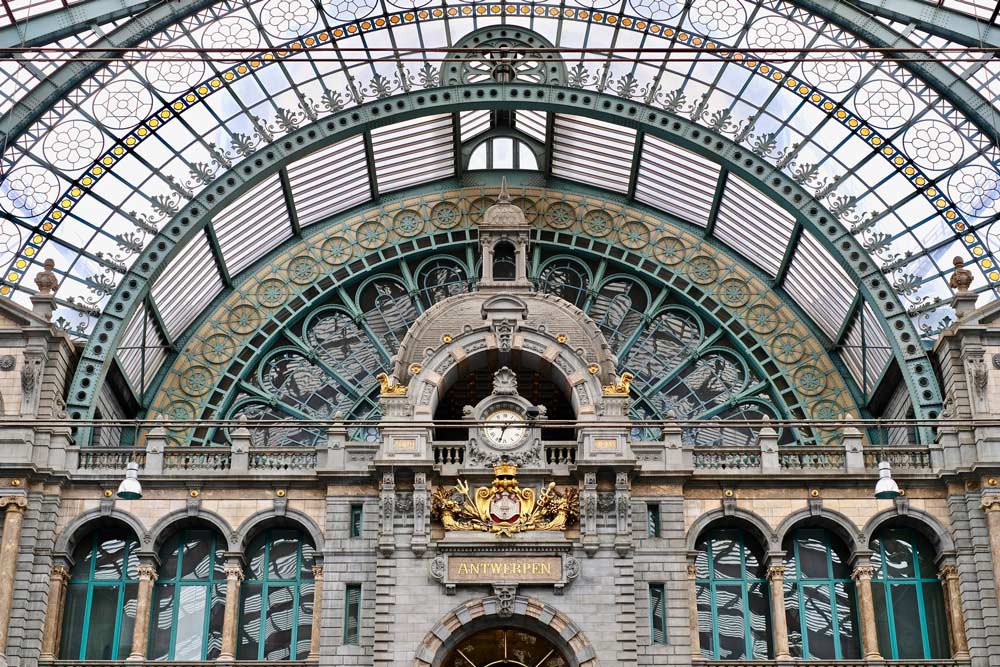 "Throughout my career, I have spent a lot of time traveling Europe which I love for the beautiful cities and lifestyle. To live in such an important industrial city and meet like-minded people was an experience and opportunity that I could never pass up".
Emma Millar, Goldsmith.
Founded by internationally recognised stone-setter, Alexander Sidorov, the Alexandre School allows aspiring artisans to adopt the time-honoured skills of Sidorov, nurturing a generation of stone-setting experts. Over thirty years of experience have led Alexander to develop a highly specialised setting technique in which the microscope is used as the main working tool. The uniqueness of Alexandre's work methods is the result of a combination of two specialised professions: Microscopical engraving and stone setting. The Alexandre School transformed the art of stone setting by introducing powered machines, microscopes and gravers to techniques that would usually have relied on the brute force of goldsmith's hands. This machinery equips the goldsmith with greater control while setting precious stones and ensures microscopic accuracy.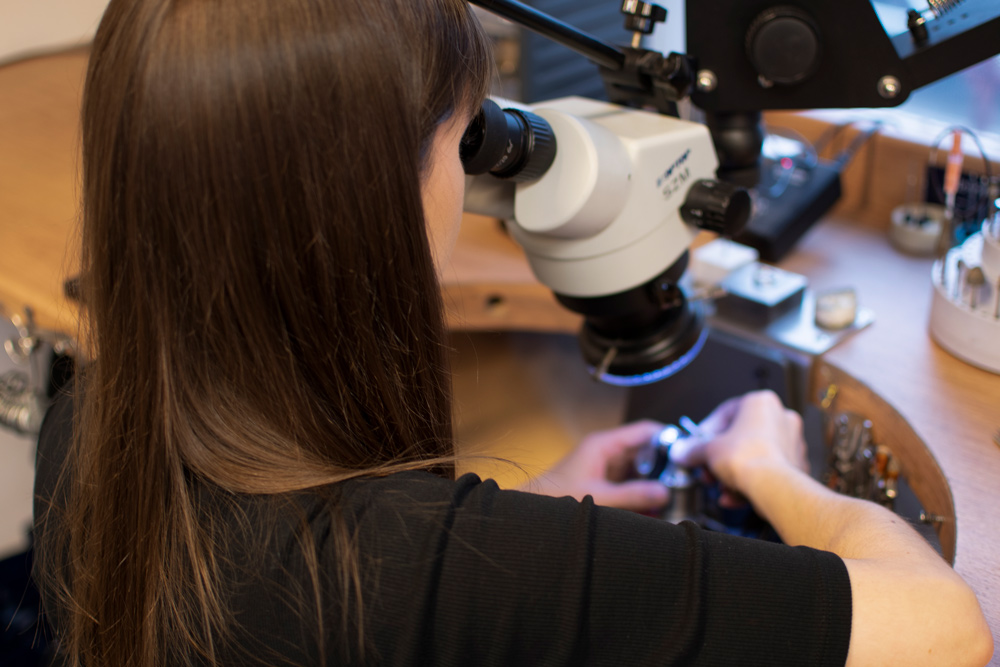 In her time at the Alexandre School, Emma undertook the esteemed Professional Training of Modern Diamond Setting, an exclusive course welcoming students from across the globe. For three months, the group are immersed in practicing their skill, watching as Master Setter demonstrates a number of techniques – pave, engraving and texturing, to name a few. Emma and the rest of the group practice the technique independently, repeating the action until perfection is reached.
An artisan's tools are often handed down from generations before, goldsmith-to-goldsmith, and the Alexandre school promotes the maintenance of these precious tools just as we take care of the pieces they help to create. During her time in Antwerp, Emma was also guided on maintaining the precious tools she was using, ensuring they are reused and reinterpreted for years to come.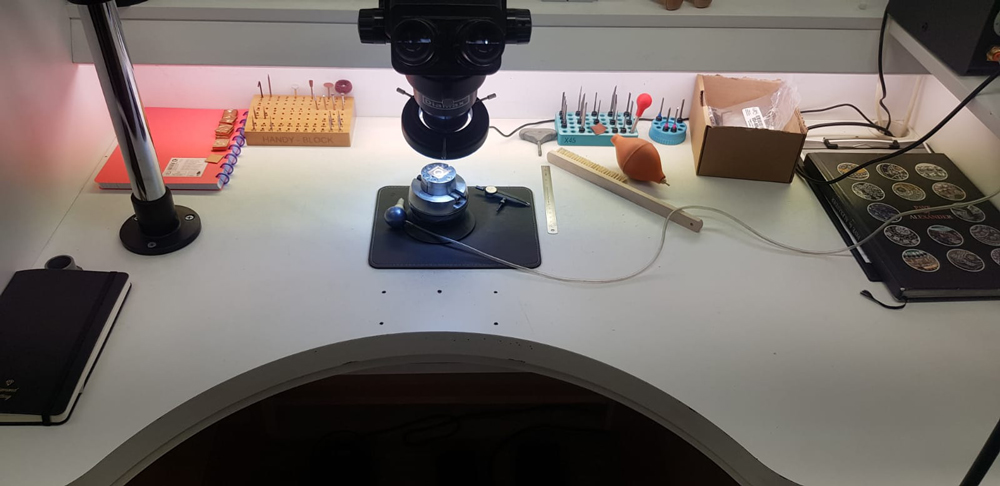 Emma's superlative skills in stone-setting are a huge achievement, and we are incredibly grateful to have such an accomplished goldsmith in our team. Her expertise will be transformative, with a dedicated stone-setter creating a wealth of opportunities for our Bespoke Design department.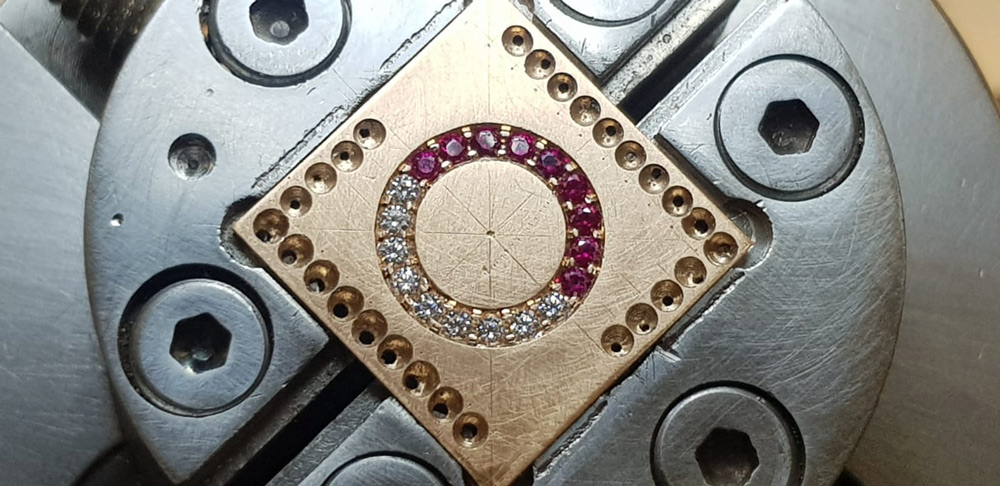 This achievement comes at a symbolic time in Emma's career, as she has been striving to this point for ten years, starting at university and working to where she is now – her sheer determination is what kept her driven.
"We are so proud of Emma and all that she has accomplished at Laings. The learnings she has brought from the course to our Laings workshops are a wonderful asset to the team, further improving our skillset and changing what is possible in our workshops. Emma's course comes at a timely point in the year, as we build towards the exciting launch of our newly refurbished workshops throughout the business in 2022."
Serena Gough, Head of Service
Discover a world of fine jewellery lovingly crafted by hand at Laings and bring your vision to life with Bespoke Design.
Thank you for taking the time to read about Goldsmith, Emma Millar's journey to Antwerp. Follow our latest news on Facebook, Instagram, YouTube and Pinterest, or if you have any questions please get in touch at [email protected]